Ashalon II Tarnos, is the current Emperor of the Empire of Mankind as of the year 100,000 CE. He is the direct descendant of Hannakon I Tarnos and Horis Tarnos and belongs to the Tarnos Dynasty. He is consider the First Emperor among the Emperors of the Second Millennium, being his son Erion, heir apparent to the Throne.
He was born in Elpida, inside the Imperial Palace, in the year 99,662 CE and became Emperor after his father's death in the year 99,874 CE. This means he has ruled the Empire for about 212 years.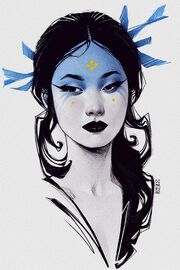 He is married to Megumi Takanashi, of the powerful Takanashi Family. This has mean successful commercial deals between the Empire and their famous company, Takanashi Antimatter, giving supplies of better quality and at a better price. They have together two sons and three daughters. Erion is married with a member of the Verres Dynasty, the sister of the Emperor of the Neo-Terran Intergalactic Hegemony, while one of the Daughters of Ashalon is married to the Current Emperor of the Neo-Terran Intergalactic Hegemony in a dual marriage alliance exchange. Another of his daughter is married to the Zykov Family, while the other one is still too young for marriage but has been already engaged to a pivotal member of the Merinburg Family.