StarExplorer1's WIP: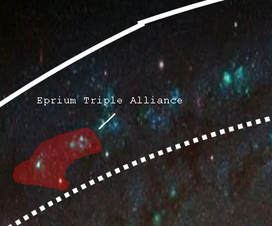 This is an old article being entirely revamped to conform to today's lore. It will not be given any significance until it reaches a more viable state. Please don't delete this article!
Description
The Eprium Triple Alliance is a group of three "regions", smaller semi-independent kingdoms, Epria, Dapatu, and Vystia, as well as a plethora of smaller civilizations, which have joined into a union. The nation today is stable and prosperous, with an improving economy and modernizing industry
Most inhabitants speak Epri Common, but those within the kingdom of Epria may also speak Kamarka.