We're Getting Mutants in the MCU - The Loop
Play Sound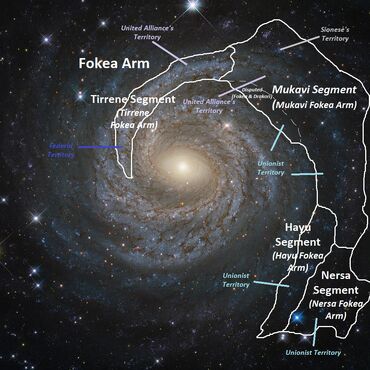 The Fokea Arm is one of the five galactic arms of the Lewis Galaxy, located in Herschel Space. It is placed in between the Miaris Arm in it's beginning and the Core of the Galaxy and then between the Drakori Arm and the void of outer space. The arm is one of the biggest and widests, heavily dense in it's origin and very sparse in terms of star systems on its later outermost areas. The arm is part of the United Alliance, the Intergalactic Federation, the Republic of Sion and the Union.
It has a total estimation of 260 billion star systems, of which more than half, somewhere around 184 billion star systems are concentrated near the core, while the remaining 76 billion star systems are on the other half of the arm. The total population is somewhere around 14 sextilion, most of which live in the inner core of the arm. It is home to Kreon, the largest most dense ecumenopolis in the Lewis Galaxy and even Herschel Space as well as the core planets of the Federation.
It is mostly settled by humans and cyborgs, while xeno live mostly in the United Alliance, the Federation and some reserves in the Republic of Sion and the Union. Thus most of the Xeno live towards the inner side of the arm.
The trajectory of the Galactic Arm through the sectors goes as follow: From it's birth in the Inner Quadrant of Yedra (in Federal Territory), it follows through the Inner Tirso Quadrant, continous through the Outer Tirso Quadrant, and then through the Outer Rudara Quadrant where it finally ends. It touches three quadrants but it is mostly present in the Rudara, Tirso and Yedra Quadrants.
Regions and Segments
Tirrene Segment
Regions
Mukavi Segment
Regions
Hayus Segment
Regions
Nersa Segment
Regions
Nations within the Arm
History
Notable Planets