Welcome.
Here are some helpful tips for the wiki.
Making an Account
If you wish to edit on the 100th Millennium Wiki, you will have to make a FANDOM account. Just go the top right corner, and press 'Create and account or log in' to get started. There will be a series of steps displayed for you, and you should easily sign in. If done correctly, you should have the ability to explore and create pages!
Making and editing articles
As soon as you sign up, you will have the ability to create and edit articles with everyone else. If you want to create an article, we recommend viewing the basic lore guidelines before creating any articles. Making a new page is easy; just press the piece of paper icon in the top right corner.
If you wish to make an edit to a pre-existing article, ask the original creator for permission first. The only exceptions are grammar and spelling fixes. Just press the 'EDIT' button on a page you want to edit, and make sure that it fits the flow of the lore and the article.
Keep in mind that this wiki is centered around the Local Universe. It is a collection of many galaxies which are bound together in a single 'group'. Galaxies may be created as long as users follow these steps:
You must give a reasoning and explanation to the unique themes and setting your galaxy has, and what it brings to the Universe that isn't in another galaxy already.


Any subsequent galaxies created must remain the sphere of your first galaxy.


You are limited to at most five galaxies in said sphere.


Submissions for galaxies must be created on the discord to be evaluated.


Subsequent galaxies should not be created unless an author gives previous ones an established theme and storyline.
Infoboxes
Infoboxes are a primary and simple way to express simple facts and information on a page. Infoboxes are also easy to add, as you can just press edit, and look for the insert button on the top left. A tiny menu will show up, and you should see 'Infobox'. Just enter the required fields and press save! Not all of the fields will have to be filled out. If you don't think it's relevant, then you're in no way obligated to put it in the infobox. It could become a fancy detail in the article later on, after all.
Images
Images are a fun and easy way to spruce up the quality and immersion of your page. Strong images with great symbolism or representation can be very informative and impressive to a reader, much more impressive than blocks of text.
Uploading Images
Uploading images is very simple. There are two major ways in which you can create images, the upload button found while editing and the upload button found anywhere on the wiki. The direct upload is a bit more complicated, and it is done by pressing the three dots in the top right. Just press 'Upload Image' and you are set. The infobox upload is more complicated, and it requires you to upload an image to the site and using its image name in the section to make it appear.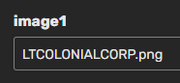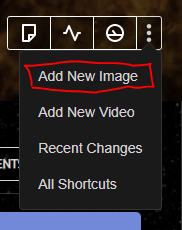 Categories
There are a multitude of categories on the 100th Millennium Wiki, which can send your pages to a list of similar articles. Categories can be created by going to the bottom of a published page, and press 'Add Category'.