Reork is a temperate habitable world governed by the Commonwealth of Golr're. It was the third world to be colonisd by them.
History
Reork was once a ocean world, situated on the inside of the habitable zone of its parent star, Golimer. Since then, it's oceans have been lowered and the atmosphere siphoned away, and Reork was born.
Life was then seeded, but even today it has not covered the entire of the planet due to a anomaly that prohibits all but the most hardy of plant life on the planet. This phenomenon is still being studied.
However, this meant that there was a lot of room for cities, and so this world is the most urbanised world in the Commonwealth.
Culture
Reorks culture revolves around the artistic journey, and the landscape. Because of the lack of plants in the populated areas,
Geography
Reork has numerous continents, though they are all small. It is mostly scattered and close islands, scattered in a tropical sea.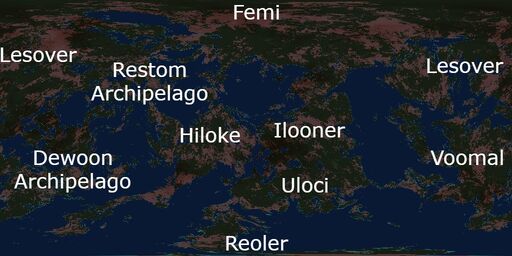 Femi
Lesover
Voomal
Uloci
Reoler
Ilooner
Hiloke
Restom Archipelago
Dewoon Archipelago
Population
Moons
Megastructures
TO BE MADE SOON, TO FILL IN TARMALYULA HISTORY AND PLANET BUSTING