Reolign is a temperate habitable world governed by the Commonwealth of Golr're. It was the second world ever to be colonised by them.
History
Roelign was the first world discovered by the Iyulo that played host to alien life, albeit quite similar to Golr'ren life. It photosynthesized using chlorophyll, and had a plants and animals divided into distinct categories. However, to them water was not needed. Instead, they used the nitrogen in the atmosphere to metabolize and grow.
When it was colonised, a alien virus in the ecosystem wrecked havoc on the population before a vaccine was produced and distributed. Along with the similarity between the life, the virus could jump entire evolutionary trees due to its remarkable ability to adapt to its environment.
Culture
The Reolign Culture is strangely absent, with music being played rarely and art and design not even being taught in Reolign schools. To visitors from planets with a large amount of culture, it is strangely absent of life. To them, it seems that the inhabitants of the planet are sterile, and unhappy.
To the Reolign Iyulo, other worlds spend a abnormal or even gluttonous amount on money on ephermal things such as happiness and fun. They usually leave cultured worlds such as Rhione or Reork within a few days, unable to stand the noise and music.
Geography
Roelign, due to its lack of surface water, has its continents defined by varying biomes. By this, there is the Northern and Southern Forests, Central Plains, Barren Wastes and Eolik Marshes.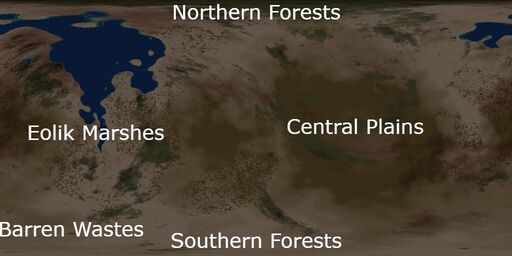 Northern Forests
The Northern Forests are a collection of smaller forested areas that are located at the Northern pole of the planet. They give the planet a greenish tinge at the North pole.
Southern Forests
Central Plains
Barren Wastes
Eolik Marshes
Population
Megastructures
TO BE MADE SOON, TO FILL IN TARMALYULA HISTORY AND PLANET BUSTING